All three of these are the third and last book in their series. They all have been released and weren't books I loved, but did really enjoy reading. I would definitely say each one was a good ending to its series.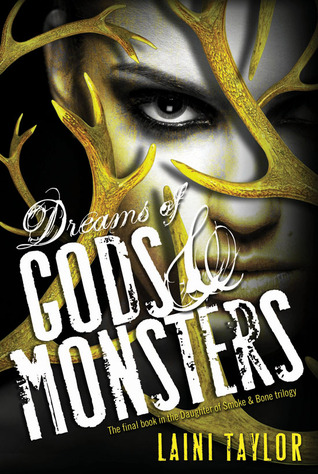 Dreams of Gods & Monsters
(Daughter of Smoke & Bone #3)
by Laini Taylor
YA Urban Fantasy
Hardcover

,

613

Pages
April 8th 2014 by Little, Brown & Company
Summary
By way of a staggering deception, Karou has taken control of the chimaera rebellion and is intent on steering its course away from dead-end vengeance. The future rests on her, if there can even be a future for the chimaera in war-ravaged Eretz.
Common enemy, common cause.
When Jael's brutal seraph army trespasses into the human world, the unthinkable becomes essential, and Karou and Akiva must ally their enemy armies against the threat. It is a twisted version of their long-ago dream, and they begin to hope that it might forge a way forward for their people.
And, perhaps, for themselves. Toward a new way of living, and maybe even love.
But there are bigger threats than Jael in the offing. A vicious queen is hunting Akiva, and, in the skies of Eretz ... something is happening. Massive stains are spreading like bruises from horizon to horizon; the great winged stormhunters are gathering as if summoned, ceaselessly circling, and a deep sense of wrong pervades the world.
What power can bruise the sky?
From the streets of Rome to the caves of the Kirin and beyond, humans, chimaera and seraphim will fight, strive, love, and die in an epic theater that transcends good and evil, right and wrong, friend and enemy.
At the very barriers of space and time, what do gods and monsters dream of? And does anything else matter?
This series has been so interesting and unique. I have loved the world-building, the characters, and the struggles for peace and love. There was so much going on and so many pieces in play. I loved many of the twists and how much of it all turned out. I also loved all the characters.
There was such an impossible task ahead of them and I felt that this was a fabulous end to the series. It explained much and nothing was easy. No nice little bows to tie off this series.
I did become a little impatient with how the book was drawn out, at least it felt a little that way with all the back and forth and trying to describe everything that needed to be described. There was also a lot of melancholy thoughts here and there that made the story somewhat languid even in the midst of intense situations and these parts also stretched the story out more. It's not that I didn't like any of these moments, but there were a lot of them almost every time the story switched from what was going on with one set of characters to another. It was a longer book at over 600 pages, so I do think some things could have been cut or maybe made a little more concise. It felt like maybe the author didn't want to let the series go and was trying to fit everything in.
Overall, Dreams of Gods & Monsters was a great ending to this series. It also left room open for a subsequent series. The writing was smooth, the characters still beloved (if not more so), the twists were fabulous, and the ending was everything I would have hoped for and it was bittersweet, which fit the series perfectly.

Content: Some language, violence, and sexual content.
Source: Library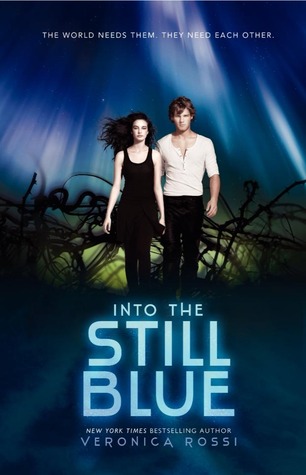 Into the Still Blue
(Under the Never Sky #3)
by Veronica Rossi
YA Sci-Fi, Dystopian
Hardcover

,

392

Pages
January 28th 2014 by HarperCollins
Summary
The race to the Still Blue has reached a stalemate. Aria and Perry are determined to find this last safe haven from the Aether storms before Sable and Hess do—and they are just as determined to stay together.
Within the confines of a cave they're using as a makeshift refuge, they struggle to reconcile their people, Dwellers and Outsiders, who are united only in their hatred of their desperate situation. Meanwhile, time is running out to rescue Cinder, who was abducted by Hess and Sable for his unique abilities. Then Roar arrives in a grief-stricken fury, endangering all with his need for revenge.
Out of options, Perry and Aria assemble an unlikely team for an impossible rescue mission. Cinder isn't just the key to unlocking the Still Blue and their only hope for survival--he's also their friend. And in a dying world, the bonds between people are what matter most.
In this final book in her earth-shattering Under the Never Sky trilogy, Veronica Rossi raises the stakes to their absolute limit and brings her epic love story to an unforgettable close.
The stakes are so much higher in this final installment to the Under the Never Sky Series. Aria and Perry's group had such a small chance of making it to the Still Blue, of fighting their way to safety and freedom. It was a long battle full of mistakes and betrayal, of desperation and loyalty. There were parts that made me so angry. I really, really disliked some of these characters. Villians, of course, and Sable specifically. The plot was fabulous! Just so much going on and all these moving parts and then things fall into place so beautifully. Well, maybe beautifully isn't the right word because it's rather scary, violent, and dirty, but it all fits these characters, this story, and this series, so it is beautiful in that way and in how right everything felt in the end. I was really happy with how it all ended. I'm really looking forward to reading whatever Rossi writes next!

Content: Violence and sexual content.
Source: From the publisher through Edelweiss, which did not affect my review in any way.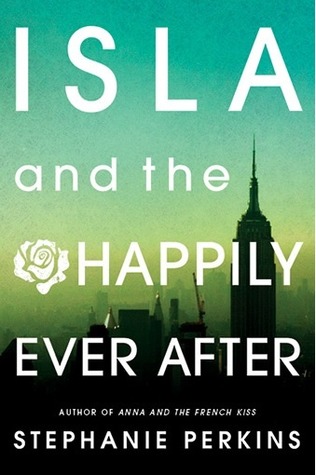 Isla and the Happily Ever After
(Anna and the French Kiss #3)
by Stephanie Perkins
YA Contemporary Romance
Hardcover

,

352

Pages
August 14th 2014 by Dutton
Summary
Love ignites in the City That Never Sleeps, but can it last?
Hopeless romantic Isla has had a crush on introspective cartoonist Josh since their first year at the School of America in Paris. And after a chance encounter in Manhattan over the summer, romance might be closer than Isla imagined. But as they begin their senior year back in France, Isla and Josh are forced to confront the challenges every young couple must face, including family drama, uncertainty about their college futures, and the very real possibility of being apart.
Featuring cameos from fan-favorites Anna, Étienne, Lola, and Cricket, this sweet and sexy story of true love—set against the stunning backdrops of New York City, Paris, and Barcelona—is a swoonworthy conclusion to Stephanie Perkins's beloved series.
I got pulled into this series when I picked up the first book, Anna & the French Kiss, last year. Perkins' characters and writing style are genuine, whimsical, funny, raw in places, and sweet. Her characters have all been interesting and have also all had some development to them as each story unfolds. Isla and the Happily Ever After was no different. There was much to love in the setting and in the characters and story. There was some heartbreak, some points where the characters really had to face themselves and come to terms with who they were and who they wanted to be and decide what they would choose. There were parts that deeply touched me and others that made me frustrated and upset.
I really, really wish this book (and all in the series) were clean. I'm sure many feel that wouldn't make them genuine, but for me there was too much language and sex. I also feel like these characters and stories have so much that can touch and teach others, but because of the content I'm fairly limited as to whom I can recommend them to.

Content: Lots of language and sexual content.
Source: Library
Have you read any of these or do you plan too?