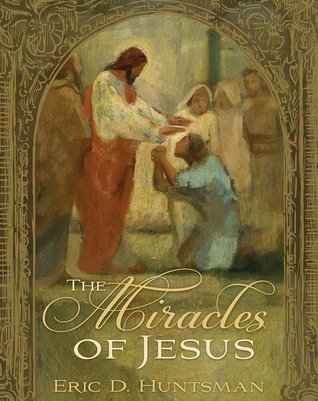 The Miracles of Jesus
by Eric D. Huntsman
Christian Nonfiction
Hardcover (8x10)

,

164

Pages
September 8, 2014 by Deseret Book
Summary
The Bible tells of more than fifty miracles Jesus Christ performed during His earthly ministry. Is it possible that one of them can help you with something you're struggling with today? In this unique study of the miracles of Jesus, author Eric D. Huntsman blends doctrinal insights and historical context with a strong focus on personal application. The author examines the meaning and greater symbolism of each miracle as he points to ways those events can parallel some of the challenges we face in todays world. Included is a look at unseen illnesses and the power of Christ to help those who struggle with chronic illness and depression. Contemporary issues such as overcoming addictions are examined in a section on how we deal with our own fresh-and-blood devils. The section on raising the dead explores the role of faith in helping us accept the death of loved ones. The author concludes, The greatest miracles of all are those that arise from the Atonement of Jesus Christ and His gracious intervention in our lives. This beautiful volume includes nearly 100 full-color images.
The Miracles of Jesus is a beautiful and resourceful book. There are beautiful pictures, maps of the various areas where the miracles took place, background information from the historical setting and beliefs, hymns, and present day and personal application. It is a powerful and inspirational compilation.
I loved how Jesus's miracles are sectioned off into: Power over the Elements, Healing the Sick, Casting Out Devils, Causing the Blind to See and the Deaf to Hear, and Raising the Dead. There are a few other sections too and a decent index to reference.
I really loved reading through these stories of awe-inspiring faith and miracles. It is beautifully put together. I knew that there were a lot of miracles that Jesus performed, but I think that there are certain ones that tend to be focused on and several that get forgotten about. There is a two-page spread towards that back that includes them all and it is just amazing to me all that Jesus did in the short period of His ministry.

I would definitely recommend The Miracles of Jesus for Christians and those who are members of The Church of Jesus Christ of Latter-day Saints who would find this compilation inspiring and would use it as a reference for family home evenings, talks, and lessons. It would also make a beautiful gift.
Source: I would like to thank the publisher, Deseret Book, for my complimentary copy, which did not affect my review in any way.
Eric D. Huntsman
is an associate professor of ancient scripture at Brigham Young University. A graduate of BYU in classical Greek and Latin, he earned an M.A. and a Ph.D. in ancient history. He has written numerous articles on the New Testament and is the author of two previous books. He is a former host of Mormon Identities, a podcast on the Mormon Channel, and he sings in the Mormon Tabernacle Choir.
Have you entered the giveaways for Gladys Knight's new album or the new cookbook from The Lion House? If not, do so below.
- One hardcover copy of Dining with the Prophets: Historic Recipes from the Lion House
- One music CD of Where My Heart Belongs by Gladys Knight
- US/CAN Only
- Ends October 26th
Must be at least 13 years old to enter (if under 18, must have adult permission).
Due to shipping costs, must reside in the US or Canada.
Please ensure that you correctly enter your email (and check your junk mail folder if I'm not on your contact list) so that I have a way to contact you. You can read my giveaway policy on my
policies page
. Void where prohibited by law. Enter via the Rafflecopter below.
a Rafflecopter giveaway