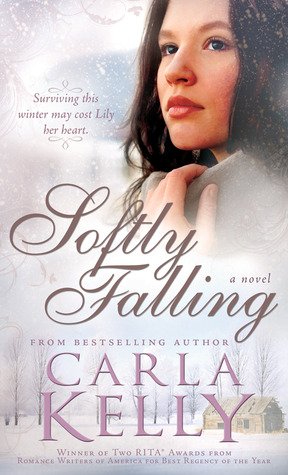 Softly Falling
by Carla Kelly
Summary
Fresh off the train from New York City, Lily Carteret arrives in picturesque Wyoming only to discover that her wayward father has lost his cattle ranch to a lowly cowboy in a card game!
Determined not to let her father's folly ruin her life, Lily becomes a teacher on the ranch. There she learns that the handsome cowboy, Jack Sinclair, has some wild predictions about the upcoming winter—that it will be unlike anything Wyoming has ever seen. Lily must either cast off her skepticism to work with Jack or risk losing everything she holds dear.
This latest novel by bestselling romance author Carla Kelly is sure to please new and old fans alike. Stirring, tense, and filled with swoon-worthy moments, it's a delectable read that will leave you begging for more!
You can read an excerpt here.
This is the third book from this author I've read and I've enjoyed them all. I'm so glad that Softly Falling did not disappoint. It was a sweet story about hardship, finding ones backbone and self, second chances, learning to forgive, and finding love in unexpected places. I thoroughly enjoyed reading it and would definitely recommend it to sweet romance readers.

I appreciated that the romance wasn't the focal point of the story, although it definitely help drive it. I enjoyed the historical setting with its tidbits of information here and there from the time period. I also really loved so many of these characters, especially Lily and Jack! I loved the friendly and protective ranch hands, the feisty cat named "Freak," the four children taught by Lily, and the helpful and rather humorous butler. There were several sweet, humorous, and endearing moments. Lily and Jack are first and foremost friends. I loved how Jack feels so protective of Lily while also encouraging her to spread her wings.

There was enough romance, tension, and danger for the plot to engage me while also building a strong story. It wasn't fast-paced, but I enjoyed how the plot slowly develops and how I really got to know these characters. There were several heartbreaking and tender moments that touched my heart and made me smile. I'm looking forward to seeing what Kelly writes next!

Content: Clean
Source: I received a complimentary copy from the publisher, which did not affect my review in any way.
Award-winning author Carla Kelly is a veteran of the New York and international publishing world. The author of more than thirty novels and novellas for Donald I. Fine Co., Signet, and Harlequin, Carla is the recipient of two Rita Awards (think Oscars for romance writing) from Romance Writers of America and two Spur Awards (think Oscars for western fiction) from Western Writers of America. She is also a recipient of a Whitney Award for Borrowed Light and My Loving Vigil Keeping.