The Caller
(Shadowfell #3)
by Juliet Marillier
YA Fantasy
Hardcover

,

480

Pages
September 9th 2014 by Knopf Books for Young Readers
Summary
In the final book in this gripping, romantic fantasy trilogy perfect for fans of Robin McKinley, Kristin Cashore, and Shannon Hale, Neryn's band of rebels reach their climactic confrontation with the king. The stunning conclusion to the story that began with Shadowfell and Raven Flight is full of romance, intrigue, magic, and adventure.
Just one year ago, Neryn had nothing but a canny skill she barely understood and a faint dream that the legendary rebel base of Shadowfell might be real. Now she is the rebels' secret weapon, and their greatest hope for survival, in the fast-approaching ambush of King Keldec at Summerfort.
The fate of Alban itself is in her hands. But to be ready for the bloody battle that lies ahead, Neryn must first seek out two more fey Guardians to receive their tutelage. Meanwhile, her beloved, Flint, has been pushed to his breaking point as a spy in the king's court—and is arousing suspicion in all the wrong quarters.
At stake lies freedom for the people of Alban, a life free from hiding for the Good Folk—and a chance for Flint and Neryn to finally be together.
This has been an interesting and enjoyable series. The fey were definitely otherworldly creatures who came in all shapes, sizes, and skills. There was desperation, great hardship and loss right next to great faith, trust, friendship, and love. These are really the best stories, where there is a slowly building climax where evil and good will meet and only one side will triumph. The spectacular and bittersweet ending was definitely worth the wait.
The first third or half of the book was a little slower paced. Things are happening, but they don't directly affect Neryn right away. She still sought her training and was worried she wouldn't make it to the Lord of the North to complete it before the time would come where she would have to stand against the king. Meanwhile, Flint was having his own struggles with what he was seeing and what he should do. Then things really picked up and it was heartbreaking to watch the manipulation and the wrong hands holding power over the fey. Flint was definitely pushed to his limit of what he would tolerate and Neryn, thankfully, bid her time. The ending was very heartrendingly sweet (if that makes sense, but it was so sad and so wonderful), but so fabulous! I loved it!! Things came together and I loved all the different plots and characters who stood out in the end. That's all I can say as I don't want to spoil anything.
I have really enjoyed this series and have loved so many of these characters. I appreciate that Marillier wasn't afraid for the story to run its course. No one came out unscathed and some were lost along the way (some of them still make me sad). The Caller was a masterly woven fantasy, with a powerful story about the fight between those that would usurp power and those who wanted to respect it in all its forms, fey and human alike. There was a beautiful romance that added to the story, but didn't overwhelm it. I would definitely recommend it to Marillier and fantasy fans.
Marillier's newest book and the beginning of a new series, The Dreamer's Pool, just released this month and I'm really looking forward to reading it!

Content: There is one closed-door scene and some torture and violence.
Source: From the publisher through NetGalley, which did not affect my review in any way.
The Caller has a couple of different covers: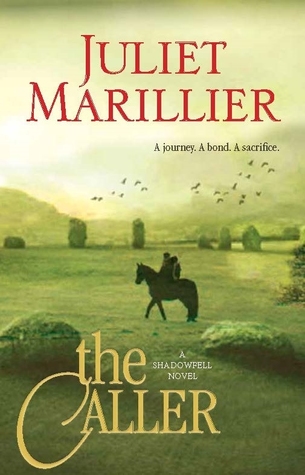 US version
Australian version
Portuguese version
The Australian version was the one I first saw when I requested this on NetGalley and I prefer it to the US version, but I love the Portuguese version the best. What do you think?