Welcome to my tour stop for Jody Hedlund's newest release, Luther and Katharina! Jody has all sorts of extras over on her site here. Read on below for more about the book, my full review, and to enter to win a copy of your own...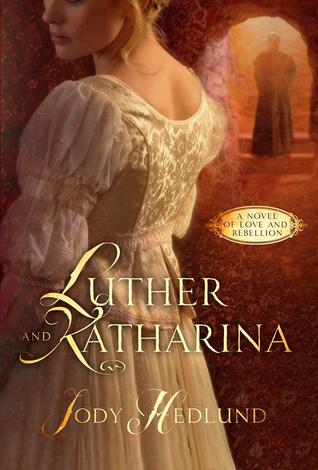 Luther and Katharina
by Jody Hedlund
Christian Historical Romance
Paperback & ebook, 386 Pages
Summary

Based on the 16th century romance of Katharina von Bora and Christian theologian and reformer Martin Luther, this novel reveals the woman behind the man who would forever change the history of the Church. While Katharina's influence on Martin Luther's life would later affect millions, her story remains largely untold…until now.

With amazing detail, Hedlund creates a beautiful epic that will give readers a new perspective on Martin Luther and the woman who claimed his heart.

Katharina von Bora has seen nothing but the inside of cloister walls since she was five. In a daring escape, Katharina finds refuge with Martin Luther and seeks his help to pair her with the noble, wealthy husband she desires.

As class tensions and religious conflicts escalate toward the brink of war, Martin Luther believes that each day could be his last and determines he will never take a wife.

As the horrors of the bloody Peasant War break out around them, the proud Katharina and headstrong Martin Luther fight their own battle for true love, in one of the greatest love stories of history.
(Affiliate links included.)
Luther and Katharina was set at a very difficult time in history. The violence, atrocities, and corruption were all terrible. Not only was there a rebellion of the lower class again the aristocracy, there was also this contention with religion. It was a truly beautiful story, told well, even when rough. It was also a very heartbreaking and difficult story to read. The author definitely deserves praise for how well she handled it and allowed enough hope, friendship, and love to balance out all the danger, deception, and violence.
The characters were very well done. Being the first book that I've really read about Luther, I found it interesting and definitely realistic in how his character was portrayed. He was intelligent about so many things to do with the church and religion, but delve into courting a women or his own heart and he's lost. Katharina was such a good counter to him, but also met his passion. She began under such naivety, yes depravity too, but more allowing her pride to overtake her good sense and knowledge of the other nuns and her situation. She grew quite a bit through this story. It was a tough journey for the both of them, but I liked how the author let them falter so they could become stronger.
I was immensely curious about Luther, the setting the reformation took place under, and quite a bit of the cultural and ethological beliefs or expectations of the day. Some parts were quite difficult for me to read an not get upset at how terribly these nuns were treated and other views of the time. There was such a stubbornness in fighting against change. The fact that the religious and political leaders burned Bibles so that the people couldn't read them just galled me. So many times I wonder how people justify their actions. Especially when thinking about the violence and abuse. The story made me realize and think more on how that was all these people had known and how very shocking Luther's beliefs and convictions were. All of this contributed to the story continuously engaging me. There also was a sense of suspense and danger not knowing how long these characters could stay out of harm.
Overall, Luther and Katharina, was very well written and told. It is a heartbreaking read, but also one of home and conviction. I'd recommend it to those of you who are Jody Hedlund fans or inspiration historical readers.

Content: Some violence, innuendo, and crudeness realistic to the situation and historical setting, as well as a closed door scene between a married couple, but clean for adult readers.
Source: I would like to thank WaterBrook Press for my complimentary copy, which did not affect my review in any way.

Jody Hedlund is an award-winning and bestselling historical fiction author. She won the 2011 Inspirational Reader's Choice Award, the 2011 Award of Excellence from the Colorado Romance Writers and was a finalist for Best Debut Novel in the 2011 ACFW Carol Awards. Currently she makes her home in central Michigan, with her husband and five busy children. She loves hearing from readers on Facebook and on her blog.
2 - print copies of Luther and Katharina by Jody Hedlund
US only
Provided by the publisher
Ends October 30th
a Rafflecopter giveaway