I'm thrilled to welcome you to my tour stop for Black Widow: Forever Red by Margaret Stohl!! I don't talk about the whole Marvel universe on here too much, but I'm a HUGE fan! I was so excited (and nervous) to see this book come up for release. What a big undertaking the author would have and high expectations, right?! I shouldn't have worried. With how strongly this character has been portrayed over the years and most recently by Scarlett Johansson, she can't help to practically jump off of the page. She's got some extra sidekicks in this adventure as well and a few cameos. Check out all the book and author info, my full review, and the giveaway below...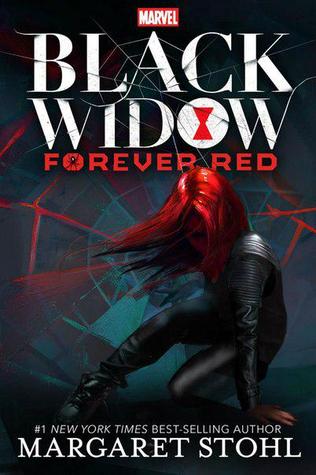 Black Widow: Forever Red
by Margaret Stohl
YA Action/Adventure, Super Hero
Hardcover, Audiobook, & ebook

, 304

Pages
October 13th 2015 by Marvel Press
Summary
Enter the world of the Avengers' iconic master spy

Natasha Romanoff is one of the world's most lethal assassins. Trained from a young age in the arts of death and deception, Natasha was given the title of Black Widow by Ivan Somodorov, her brutal teacher at the Red Room, Moscow's infamous academy for operatives.

Ava Orlova is just trying to fit in as an average Brooklyn teenager, but her life has been anything but average.The daughter of a missing Russian quantum physicist, Ava was once subjected to a series of ruthless military experiments-until she was rescued by Black Widow and placed under S.H.I.E.L.D. protection. Ava has always longed to reconnect with her mysterious savior, but Black Widow isn't really the big sister type.

Until now.

When children all over Eastern Europe begin to go missing, and rumors of smuggled Red Room tech light up the dark net, Natasha suspects her old teacher has returned-and that Ava Orlova might be the only one who can stop him. To defeat the madman who threatens their future, Natasha and Ava must unravel their pasts. Only then will they discover the truth about the dark-eyed boy with an hourglass tattoo who haunts Ava's dreams. . . .

Black Widow: Forever Red features all the heart-pounding adventure readers expect from Marvel, written by #1 New York Times best-selling author Margaret Stohl. Uncover a new side of the Marvel Universe that will thrill loyal fans and newcomers alike, as Stohl reveals the untold story of Black Widow for the very first time.


Black Widow: Forever Red drops the reader right into a tense situation between one girl trying to figure out what's going on, a super spy trying to save the girl's neck, and a boy who gets mixed up in it all. The tension built from the start, as the action breaks loose, and Romanoff adds her special charm (referring to her quick wit, snark, and sarcasm) and skills against their foes. Of course there's a madman on the loose with a plan that directly targets Black Widow and her two charges, Ava and Alex. Black Widow usually is up against government or S.H.I.E.L.D. targets or aliens. This time, it's personal.
Natasha Romanoff is such a fabulous and strong character. She really came alive on these pages. It was fun to see Coulson and Tony Stark grace the pages with their intelligence and humor. Then there were two new characters, Ava and Alex, two teens with a possible romance between them who took quite a bit of center stage. They were integral to the story and played their parts well. Natasha still was such a strong presence. Her character is like that and I loved it!
The plot grew steadily as more information was divulged to the characters and thus the reader. The action had some great moments, intensity, and even some dialogue in usual Marvel fashion. It literally felt like a movie that you could watch. The story wasn't all action, but had quite a bit of depth as Romanoff's history is exposed more than what you would see in the movies. There was also a sadness to the story that felt consistent with the situation and particularly Black Widow's character. It was a bittersweet story, both joyful, action-packed, and heartbreaking.
If you're a Black Widow/Avengers fan, enjoy reading about super heroes, enjoy action, and love strong, fierce, and snarky female leads, then Black Widow: Forever Red is for you. I loved it from beginning to end and have my fingers crossed that this is only the beginning of more to come!

Content: Some innuendo and violence, but clean.
Source: I would like to thank Marvel for my complementary eARC through NetGalley, which did not affect my review in any way.
Margaret Stohl
is the #1 New York Times Bestselling co-author of the BEAUTIFUL CREATURES Novels and DANGEROUS CREATURES novels, as well as the author of BLACK WIDOW: FOREVER RED forthcoming from Marvel Press (Marvel YA), and the ICONS Novels.
She is the USA Today, Publishers Weekly, Los Angeles Times, Indie-Bound, Wall Street Journal and Internationally Bestselling author of nine YA novels, and has been published in 37 languages and 48 countries. BEAUTIFUL CREATURES was adapted into a film (2013) by Warner Brothers and Alcon Entertainment, and was an ALA William C. Morris YA Debut Award finalist in 2010, as well as a SCIBA award finalist, a NYPL Book for the Teen Age, and a YALSA Teen Top Ten Pick. Beautiful Creatures was named the #1 Teen Pick from Amazon in 2009, and the #5 Editors Pick, Overall.
Prior to becoming an author, Margaret worked in the video game industry as a writer and lead designer for sixteen years, eventually co-founding 7 Studios game developer with her husband, Lewis Peterson. She is also the co-founder of YALLFEST (Charleston, SC) and YALLWEST (Santa Monica, CA), two of the biggest kid/teen book festivals in the country. An alumnus of Amherst College, Stanford University, and Yale University, Margaret lives in Santa Monica with her family, two rescue cats, and two bad beagles.
Week One:
10/5/2015-
Caught Read Handed
- Review
10/6/2015-
Mundie Moms
- Interview
10/7/2015-
Novel Novice
- Review
10/8/2015-
IceyBooks
- Guest Post
10/9/2015-
Word Spelunking
- Review
Week Two:
10/12/2015-
Fangirlish
- Interview
10/13/2015-
Wishful Endings
- Review
10/14/2015-
Nerdophiles
- Guest Post
10/15/2015-
Chapter by Chapter
- Review
10/16/2015-
The Reading Nook Reviews
- Interview