I'm sharing the Cover Reveal for Cori McCarthy's newest release:
You Were Here
To be released March 1st 2016 by Sourcebooks Fire.
Here's the press release from the publisher:
Critically acclaimed author of
Breaking Sky
, Cori McCarthy reveals the cover of her latest groundbreaking novel
You Were Here
.
Narrated in multiple formats including word art poetry, graphic novel panels, and prose, this visually stunning story follows Jaycee Strangelove and an unlikely group of friends on a post-graduation adventure as Jaycee chases the memory of her late brother by completing the death-defying stunts that got him killed.
Jaycee's companions: her ex-best friend, a slacker with Peter Pan syndrome, a heartbroken poet, and a selective mute all have their own reasons for attempting her brother's dares. But as they delve deeper into the urban ruins that captivated Jaycee's brother, from the petrifying remains of an insane asylum to the skeletal remnants of the world's largest amusement park they learn a singular and unforgettable lesson on the truth about friendship, heartbreak, and inevitable change.
Check out the cover and enter the giveaway below...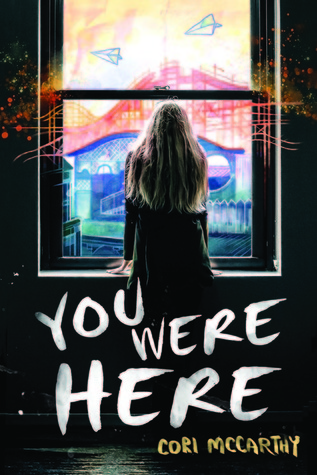 Summary

Grief turned Jaycee into a daredevil, but can she dare to deal with her past?

On the anniversary of her dardevil brother's death, Jaycee attempts to break into Jake's favorite hideout—the petrifying ruins of an insane asylum. Joined by four classmates, each with their own brand of disfunction, Jaycee discovers a map detailing her brother's exploration and the unfinished dares he left behind.

As a tribute to Jake, Jaycee vows to complete the dares, no matter how terrifying or dangerous. What she doesn't bargain on is her eccentric band of friends who challenge her to do the unthinkable: reveal the parts of herself that she buried with her brother.