Welcome to my tour stop for Real Food, Real Kitchens: New York Cookbook by Craig Chapman! This cookbooks was so fun and we enjoyed trying some different ethnic recipes. Find out more about the book, the man behind it, and my full review below...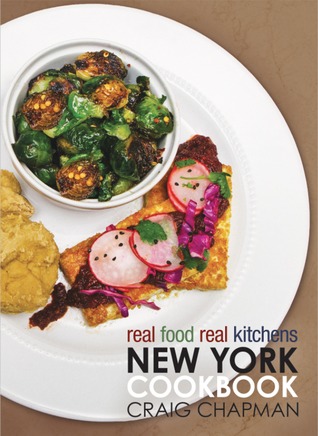 Real Food, Real Kitchens:
New York Cookbook
by Craig Chapman
Cookbook
Paperback & ebook, 208 Pages
October 13th 2015 by Cedar Fort Publishing & Media
Summary
After an award-winning career in television and magazines, Craig Chapman is pursuing his passion: telling the real stories of real food and the people and cultures that bring a dish to life. Based on his popular TV series, these recipes take you behind the scenes and into the kitchens of everyday people who are using food to change the world.

Real Food Real Kitchens is all about Family, Food, Culture and History; telling the story of a dish and the family and culture that brings it to life.


Real Food, Real Kitchens: New York Cookbook
was such a flavorful and delightful cookbook. Full of various ethnic foods from different areas of New York brought to the table colorful and unique dishes. Each recipe brought a glimpse into the homes of different individuals and families in New York as they shared their recipes as well as their environment and history. It gave the cookbook such a different feel than most, making it a much more personable cooking experience.
The ethnic variation of recipes was vast, which was a wonderful thing for me and my family to experience. We, including the children, enjoyed all of the recipes we tried. These recipes included the Curry Chicken with White Rice (Guyanese), Italian Wedding Soup (Italian), Fried Spareribs with Baked Mac & Cheese and Cabbage Salad (Southern), Esovitch Fish with Festivals (Jamaican), and Shrimp Stir-Fry (Vietnamese/Japanese). I hadn't thought of using chickpeas in curry, but it was a great addition. I would have never thought of frying pork ribs, and these were fantastic! My kids also about swooned over the Mac & Cheese. The Esovitch Fish was really good. It did get a little vinegary, especially as a leftover, but still very good. The Festivals were too salty, but that's easily fixable and the kids loved these! I also would have liked a little more flavor in the Shrimp Stir-Fry, but it was still very good. Our favorites would have to be the Italian Wedding Soup and the Fried Spareribs, but all the recipes were still enjoyable.
Fried Spareribs
Baked Mac & Cheese
Cabbage Salad
I loved the way the recipes and pictures were presented. I also loved that each recipe is really one to three recipes to be used as a meal. It made it very easy to pick one and know that dinner was going to be good to go. I do wish the recipes had all included serving sizes and the time needed to prep and cook each. I also wish there were some notes for alternatives that could be used for certain ingredients that aren't easily found in other parts of the US. These would be my only suggestions.
Esovitch Fish and Festivals
Overall, Real Food, Real Kitchens: New York Cookbook was a great cooking adventure and one I plan to continue. There are still a few more recipes that our family must try. It would also make a lovely gift.
Shrimp Stir-Fry
Source
: I would like to thank Cedar Fort for my complimentary copy, which did not affect my review in any way.

Craig Chapman published his first magazine at the age of 15, which was a handwritten, photocopied punk rock fanzine. He moved to New York after college and worked as a television and film Production Manager at Nickelodeon, MTV, VH1, Time Inc., and more. He also took time to work as a magazine Editor developing an MTV Magazine for Hearst, as a Fashion and Beauty Editor at InTouch Weekly during their inaugural year, and as a Lifestyle Editor for Seventeen.
Chapman owns OEG Media LLC which creates unscripted television, film, and multi-platform digital projects that highlight the lifestyle, drama, comedy, and challenges of real life. He is also the Founder and Producer of the national brand Real Food Real Kitchens which includes a TV series, yearly magazine, and daily web site. Real Food Real Kitchens is all about 'Family, Food, Culture and History'; telling the story of a dish and the family and culture that bring it to life.