Review briefs are short reviews for books I need to review, but are either novellas (you can only say so much about a short book), books I didn't like, or when I don't have time for a longer review but need to get one posted.
This is the prequel for a new line of books where the only thing in common is one character called "The Matchmaker," Pearl. This is Pearl's story. You can see my review of the first book in this series,
Broken Things to Mend
(which I highly recommend),
here
. I read this back in December and somehow missed posting a review.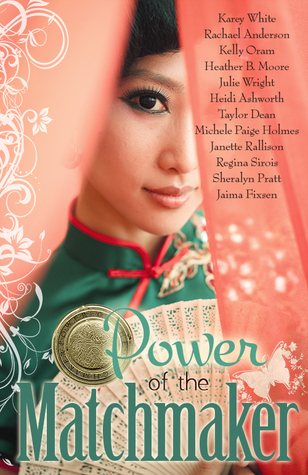 Power of the Matchmaker
(Power of the Matchmaker)
by Karey White, Rachael Anderson, Sheralyn Pratt, Jaima Fixsen, Kelly Oram, Heather B. Moore, Julie Wright, Heidi Ashworth, Taylor Dean, Michele Paige Holmes, Janette Rallison, & Regina Sirois
Adult Historical Romance, Novella
ebook, 60 Pages
November 3rd 2015 by Mirror Press
Summary
A prequel novella to the POWER OF THE MATCHMAKER Series
Mystical . . . Beautiful . . . Romantic . . .
12 novels by 12 bestselling authors
Released once a month in 2016
Read the matchmaker's story to find out where it all starts . . .

Mae Li has been in love with Chen Zhu for years, and he with her. But when the matchmaker arrives at the Zhu family home, she recommends another village girl for Chen.

Heartbroken, Mae Li watches as Chen does his duty by marrying another. Mae flees her village with the clothes on her back and her only possession—a pearl embedded comb, given to her as a goodbye gift from Chen Zhu.

Upon Mae's arrival in Shanghai, she quickly learns that she'll starve within days unless she sells her prized comb or joins a courtesan house. She goes to the Huangpu River and promises the River God that she'll always be selfless if he will save her from becoming a prostitute . . . Her wish is granted when Ms. Tan, the matchmaker of Shanghai, finds Mae. But Mae must completely change her future and her name if she is to become the next matchmaker.
POWER OF THE MATCHMAKER was such a fabulous start to this new series of twelve standalone books! It's amazing that in so few pages (60) the story could come alive so much. The writing and characters were so well written. I felt immersed in the setting. I was cheering Mae Li on, wanted to cry for her, and was so hopeful for her future. It was heartbreaking. The ending was perfect, but bittersweet. I'm looking forward to reading the other books in the series and seeing Mae Li, or "Pearl," again. A pretty perfect novella.

Content: Some mature subject matter and innuendo, but clean.
Source: I received a complimentary copy for review through ebooksforreview.com, which did not affect my review in any way.
Breathe In
is a prequel novella to
Threats of Sky and Sea
. You can see my review of
Threats of Sky and Sea
here
.
(Threats of Sky and Sea #0.7)
by Jennifer Ellision
YA Fantasy, Novella
ebook, 35 Pages
December 2015
Every winter, the snow glitters like a pretty lie. The winter palace swarms with visiting nobles.
And Lady Corrine fights not to lose her breath.
Because whether he means to or not, Duke Ardin steals it away.
(This story is a short prequel to Threats of Sky and Sea.)
BREATHE IN was a perfect prologue to Threats of Sky and Sea. It gave a nice glimpse into the mother that Bree never knew. I was sucked into it from the first to the last page. The characters came alive even with the few pages there is. My only complaint would be that I wanted more, more background into Ardin and what he was doing and even more about Corrine, but at the same time, it didn't divulge any spoilers for those who haven't read the series.
For lovers of the series or those that want a little jump-start before reading
Threats of Sky and Sea
, a must read!
Content: Some innuendo between husband and wife, but clean.
Source: I received a complimentary copy for review from the author, which did not affect my review in any way.
This one I read last year and loved and just realized that I never posted a review, so I'm doing it now...
YA Christian Historical Romance, Novella
Paperback & ebook, 158 Pages
2014 by Mason Jar Books
There is nothing extraordinary about Tucker O'Shay's dreams. Go to college. Become president. Fall in love. And pretend like he has enough time to get it all done.
Sixteen-year-old Sarah Miller doesn't expect anything out of the ordinary when she begins her first day at the one-room-school house in her new hometown of Rocky Knob. But when she meets seventeen-year-old Tucker O'Shay—the boy with the fatal illness who volunteers to tutor her in algebra—she finds herself swept up in a friendship that changes the way she sees the world and a love that changes her life.
THIS QUIET SKY was an amazing story, equally sweet, inspiring, and heartbreaking.
The writing was fabulous! I was so immersed in the story.
The quiet friendship, heart, joy, and love that these two characters share was so touching. I wanted so much for them. I will say that no other story made me bawl as much as this one, but it was worth it in all its beauty. Highly recommend for YA, NA, and Adult readers.
Content: Clean.
Source: Won a copy through a blogger's giveaway, which did not affect my review in any way.
I'm looking forward to reading all the books in both series. What are your thoughts?