Friday Favorites is a meme that spotlights a favorite author, book, series, publisher, cover, blog, etc. Basically whatever bookish thing that I have loved, would recommend, and want to tell others about. You can see all of my Friday Favorites here. You're welcome to join in as well!
It's been ages since I've done a Friday Favorites. It's something I'm hoping to do quite a bit more often this year.
I'm sure those of you who are Lunar Chronicles lovers or who have followed me for a while aren't surprised that I loved
Winter
. You can see my reviews of the series:
Cinder
,
Scarlet
,
Cress
, and
Fairest
. I'm also looking forward to
Stars Above
coming out in just a few weeks and seeing Marissa at a local bookstore. Check out why I loved
Winter
below...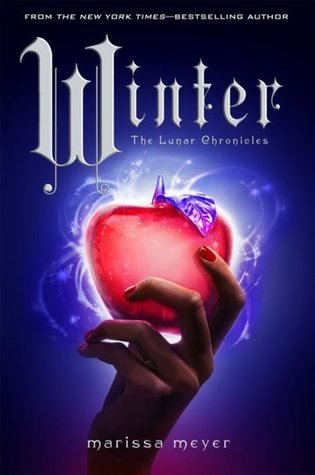 Winter
(The Lunar Chronicles #4)
by Marissa Meyer
YA SciFi, Dystopian, Fairy Tale Retelling
Hardcover, 824 pages
November 10th 2015 by Feiwel and Friends
Summary
Princess Winter is admired by the Lunar people for her grace and kindness, and despite the scars that mar her face, her beauty is said to be even more breathtaking than that of her stepmother, Queen Levana.
Winter despises her stepmother, and knows Levana won't approve of her feelings for her childhood friend–the handsome palace guard, Jacin. But Winter isn't as weak as Levana believes her to be and she's been undermining her stepmother's wishes for years. Together with the cyborg mechanic, Cinder, and her allies, Winter might even have the power to launch a revolution and win a war that's been raging for far too long.
Can Cinder, Scarlet, Cress, and Winter defeat Levana and find their happily ever afters?
WINTER starts right where CRESS left off.
No time to brace yourself. Just time to jump in and hold on. The author did a fabulous job of letting things unfold. This wasn't some crazy plot (I mean it was crazy) that would just work smoothly over a day's time. No, it took days, planning, lots of moving pieces, and adjusting adapting according to their circumstances. Very few things went as planned. Each character had to find out what they were made of. They were a ragged, beat-up group, but all of them survivors. I loved seeing the plan move, parts of it failing and others not, different (and sometimes surprisingly better) plans coming through. There were rescues, heroic moments, humor, bravery, fear, and romance, and almost all of it taking place on Lunar. The ending was also fabulously well done and so realistic. I loved it all!
I love these characters. Love them! Starting Winter was like coming back to old friends. The author did such a fabulous job of allowing their strengths, weaknesses, vulnerabilities, and force of will to come through in this story. The odds were so stacked against the group. I didn't feel like they got it easy or that everything worked out smoothly. Were they lucky? Sometimes. A lot of it was having connections, or a few key people being on their side, or planning, or just going through and doing the best with what they had to defeat Levana. It was tough. It was brutal. But it was also beautiful. There were friendships made and strengthened. There were moments of camaraderie, of sparking chemistry. There were moments where everything did work together and characters got to make a stand. It was so totally awesome! I literally wanted to do a little dance and cheer multiple times. I love this series truly for its characters and their mettle.
The plot did have some slower-ish areas where things were being planned or they were waiting for the next part of the plan or for something else to happen. Then there were intense moments where I just didn't know what was going to happen and "Please, someone come to the rescue!" There was war and it wasn't pretty. This is a long book, over 800 pages, but it didn't feel long. Except maybe that it took some time to read it and I was dying to see how it all turned out.
If you've enjoyed the series to this point and you enjoy dystopian, sci-fi, or fairy tale retellings, then I would definitely recommend WINTER and the entire Lunar Chronicles.
Content: Violence, but otherwise clean.
Source
: Purchased
Marissa Meyer
lives in Tacoma, Washington, with her husband and three cats. She's a fan of most things geeky (Sailor Moon, Firefly, color-coordinating her bookshelf . . .), and has been in love with fairy tales since she was given a small book of them when she was a child. She may or may not be a cyborg. Cinder is her first novel.

Have you read this or do you plan too?