Welcome to my
Weekly Update
where I post my blog's schedule for the week! I'm linking up to
The Sunday Post
, hosted by Kimba @
The Caffeinated Book Reviewer
, as well as to
Tynga's Reviews
for
Stacking the Shelves
and
Talk Supe
for
Bought, Borrowed, and Bagged
showcasing the books I added to my shelves or Kindle this week.
It was a pretty decent week last week and I'm looking forward to this one as well. We took the four kiddos on a hike on Saturday morning and did some rappelling training with them. We had them try it out over a slight incline so they could get a feel for it and learn the basics. It was a little crazy with a four-year-old, but we all had a fabulous time! The weather has been gorgeous, but is supposed to get cold again on Monday.

February is my blogoversary celebration and there will be a fun giveaway for that, so look for my post on Monday as well as the other fun posts this week. Here's what to expect:
I'm so excited to have
Authors Tarun Shanker
&
Kelly Zekas
stopping by as part of their tour for
These Vicious Masks
! Don't you love this cover?!! I may be participating in
Top Ten Tuesday
too. We'll see.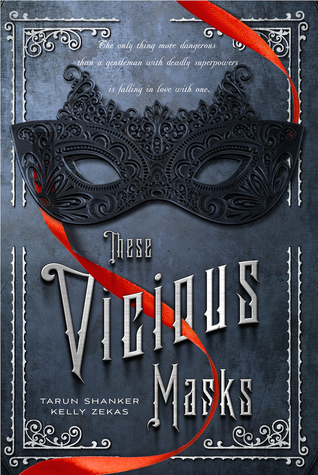 I'll be a tour stop for
Make Me a Match
by
Melinda Curtis
,
Cari Lynn Webb
,
and Anna J. Stewart
. I love these authors and am happy to be helping them promote their compilation!
I'll be reviewing the first Proper Romance release of 2016 (5 more this year to come and I'm stoked!!),
My Fair Gentleman
by
Nancy Campbell Allen
.
I'll have a couple of promo posts, but will also be posting a
Friday Favorites
again all about covers, so come check that out!
I got quite a few books this week. Lots of exciting things to read! Here they are (linked to Amazon):
PHYSICAL BOOKS
EBOOKS
*Just a note that you can pre-order Write Me Home for 0.99.
There's one day left for January's giveaway and then my Blogoversary giveaway begins on Monday.
In case you missed this last week (I'll be sharing it through February): Prism Book Tours is looking for reviewers for Alethea Kontis' two newest fairy-tale-inspired books. Her Woodcutter Sisters Series that started these are some of my favorite books. These are much darker. Anyway, you don't have to be a blogger to review - you just have to post a review on Amazon. Check it out if you're interested!
What you might have missed last week:
I hope you all have a fun week!