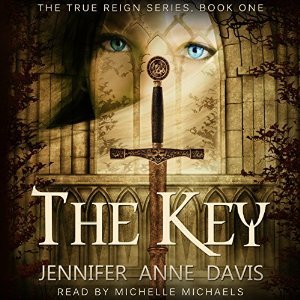 The Key
(The True Reign Series, #1)
by Jennifer Anne Davis
Read by Michelle Michaels
YA Fantasy
Audiobook
December 18th 2014 by Clean Teen Publishing
Summary
His father's kingdom is on the brink of upheaval and at the center of it all is an ordinary girl who could be the key to its undoing. When faced with the ultimate choice, will he choose the girl he's falling in love with or the kingdom he has sworn to protect?
An ordinary girl with an extraordinary past. All she wants is to be free. What she doesn't realize is that freedom comes with a price she can't afford to pay. She's forced to accept the proposal of a prince she despises, even though her heart belongs to someone else... his brother.
Seventeen-year-old Rema lives in a brutal kingdom where travel between regions is forbidden, people are starving, and looking at someone the wrong way can mean death. Nineteen-year-old Darmik is the king's son and Commander of the King's Army. He spends his days roving the island, doing his father's bidding and trying to maintain control over the people.
When a chance encounter throws Rema and Darmik together, they share an instantaneous connection, but any sort of relationship between them is strictly forbidden. Darmik's brother, the Crown Prince, notices Darmik's interest in Rema and, in a calculated, political move, blackmails her. Faced with an impossible choice, Rema is forced to sacrifice her heart in order to save her family.
This review is in two parts. First, I will be reviewing the audiobook mostly in narration. Second, I will review the actual book.
I immediately loved the voice of the narrator, Michelle Michaels, in her reading of The Key. She had a great accent and I loved how the story came alive as she read. Her pitch was also great and I liked the emotion that she put into the story. My only complaint would be that the laughs bothered me and I could have done with her just reading those parts instead of actually laughing for the recording. Otherwise, it was a good audio version of the story.
I had high hopes for The Key. I really enjoy reading fantasy and escaping to new lands. There were some really good parts of the story and I really liked the tension between the heroine and the younger prince. There were other parts that didn't feel realistic or consistent with how characters would or should act, so that threw me a little and seemed to happen right when I was trying to get into the story. There was potential for future books to be better as the plot unfolds more, so it's possible that this series might grow on me more.

Content: Some innuendo and violence.
Source: Received a complimentary audiobook for review from the publisher, Clean Teen Publishing, which did not affect my review in any way.
Have you read either of these or do you plan to?