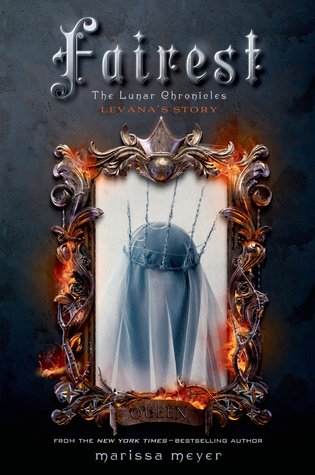 Fairest
(Lunar Chronicles #3.5)
by Marissa Meyer
YA Dystopian, SciFi
Hardcover, 256 pages
January 27th 2015 by Feiwel & Friends
Summary
In this stunning bridge book between Cress and Winter in the bestselling Lunar Chronicles, Queen Levana's story is finally told.
Mirror, mirror on the wall,
Who is the fairest of them all?
Fans of the Lunar Chronicles know Queen Levana as a ruler who uses her "glamour" to gain power. But long before she crossed paths with Cinder, Scarlet, and Cress, Levana lived a very different story – a story that has never been told . . . until now.
Marissa Meyer spins yet another unforgettable tale about love and war, deceit and death. This extraordinary book includes full-color art and an excerpt from Winter, the next book in the Lunar Chronicles series.
I have very mixed feelings about Fairest. I had such high hopes for it and finding out more about Queen Levana. I definitely did find out a lot about the queen, but I found that I really didn't want to know. The rest of the series is fairly clean except for some violence and some innuendo. Fairest would be in content more on a NA or Adult level. I understood, but at the same time it almost felt out of context, or maybe just so different from the rest of the series.
At the beginning I felt really bad for Levana. She has been tortured and mistreated and learned to place importance on what really wasn't important. She hasn't ever felt loved. It all made sense in building who she is later on in the rest of the series. I didn't want to feel sorrow for her, but I did. I couldn't help it because it was all so terrible. As the story progressed and as things happen and Levana makes her choices the story just felt so morose and desperate and sad. It wasn't an enjoyable read. There were points where I thought Levana stood on a precipice and could have become someone so much better, but she didn't decide to do good, but turned the other way and others didn't help her out of the place she had come to.
The writing, characterizations, and plotting were all great, as usual to be expected from Meyer's writing, but I frankly didn't like the story.

Content: (Highlight to read.)

Innuendo, abuse, rape, suggestive content, closed door sex, and violence.
Source: Purchased

So what did you think about Levana's story, if you read it?