Welcome to my tour stop for Lisa's second book in her Remnant Series, Season of Fire! These characters are really thrown through the fire in this book, not that they fared a ton better in the first book. You can see my review of the first book, Season of Wonder, here. Check out why you don't want to live in this fictional world, my review, and the giveaway below...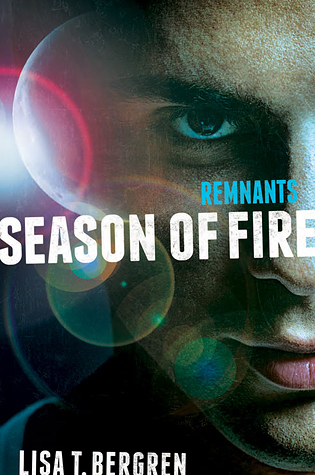 Season of Fire
(The Remnants #2)
by Lisa T. Bergren
Christian YA Dystopian
Hardcover, 304

Pages
March 3rd 2015 by Zondervan
Summary
After tackling her first mission and coming to terms with her power of empathy, Andriana discovers her first battles were only a taste of what is to come. She and her Knight, Ronan, have admitted their feelings for one another, but their bonds are tested when Keallach appears following the Remnants' attempt to free his imprisoned twin brother, Kapriel. Andriana is sure Keallach can be convinced to follow the Maker's plan, but her decision leaves her separated from her fellow Remnants and could drive a wedge between her and Ronan that proves impossible to overcome.
Ten Reason Why You Don't Want
to Live in the Remnants' World
2) No electricity (other than in the emperor's palace)
5) No hospitals/readily-available medicine
6) No mass transportation
8) Some cities subjugate women
9) More medieval/feudalistic society
10) Cancer is wide-spread because of toxic waste
P.S. I have a character named Tressa in Remnants! It's a beautiful name!
(Isn't that a nice note from Lisa?!! It's kind of fun reading about a character with my name and what a nice compliment!)
My Review
I threw myself into this book after finishing the first book in the series, Season of Wonder. I was happy that the first book didn't end in a huge cliffhanger, but excited to see where these characters were and if they were farther along in rescuing their prince. The book started right off with tensions high and soon fighting for their lives, which definitely is an ongoing theme, as it should be. I enjoyed Season of Fire even more than the first book and I think that was due to the characters having matured just a little as they've already faced so much.
The plot moves pretty quickly through the events in this book. There was some down time when there isn't any fighting, but even then there is this constant tension that you can just feel. The author does a great job in conveying the urgency of the remnants' mission and the dire situations they find themselves in. The plot continuously seemed to thicken and build and by the end I was holding my breath while I held on for dear life.
I really liked how much the characters have grown in this second book. They still have much to learn and to really let go and fully trust, but they are closer than they were in the first book. They are finding more allies and growing closer as a unit. Things are starting to come together. I also liked that the religion is presented in such a way that it was a part of who they each were, their growth, and their culture.

If you enjoy reading about close-knit characters facing what appear to be unbelievable odds, who must rely on their Maker to save their dystopian world, with plenty of action, betrayal, heartbreak, and a little bit of romance, then definitely grab a copy of Season of Fire.

Content: There is quite a bit of violence, but I would still consider this clean.
Source: I received a complimentary review copy from the publisher for the purpose of this tour, which did not affect my review in any way. Thank you Zondervan/Blink for sending me a copy!
Lisa T. Bergren
is the best-selling, award-winning author of over 40 books, with more than 2.5 million copies sold. Her most recent works includes a YA series called River of Time (Waterfall, Cascade, Torrent, Bourne & Tributary), God Gave Us Angels, and the Grand Tour Series (Glamorous Illusions, Grave Consequences, and Glittering Promises). She's currently at work on the third in her Remnants trilogy, coming out in 2016. Lisa's time is split between managing home base, writing, and working on fence post ducks with her husband, Tim (
RMrustic.com
). They have three kids–Olivia (19), Emma (16) and Jack (11).
The Bergrens make their home in Colorado Springs, Colorado.
5 Winners will receive a Copy of Season of Fire by Lisa T. Bergren
-
Giveaway is open to International. | Must be 13+ to Enter
a Rafflecopter giveaway