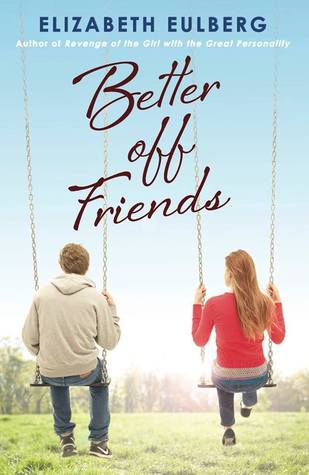 Better off Friends
by Elizabeth Eulberg
YA Contemporary
Hardcover

,

276

Pages
February 25th 2014 by Point
Summary
For Macallan and Levi, it was friends at first sight. Everyone says guys and girls can't be just friends, but these two are. They hang out after school, share tons of inside jokes, their families are super close, and Levi even starts dating one of Macallan's friends. They are platonic and happy that way.
Eventually they realize they're best friends — which wouldn't be so bad if they didn't keep getting in each other's way. Guys won't ask Macallan out because they think she's with Levi, and Levi spends too much time joking around with Macallan, and maybe not enough time with his date. They can't help but wonder . . . are they more than friends or are they better off without making it even more complicated?
From romantic comedy superstar Elizabeth Eulberg comes a fresh, fun examination of a question for the ages: Can guys and girls ever really be just friends? Or are they always one fight away from not speaking again — and one kiss away from true love?
I have enjoyed the other books I've read from this author and heard great things about Better off Friends, so I was really looking forward to reading it. I'm glad I did. It was another winner from this author.
There were so many inside jokes and meaningful memories between these two MC's because of their long-lasting friendship. I could definitely see how their boyfriends/girlfriends could have issues with the friendship because many times it took precedence over them. I also could see how emotionally involved they both were and how easily it would be to mess things up. I had to agree with Levi when he reacts to Macallan when she does something and doesn't even think about how he's a guy. Lol! If you've read this, you know exactly what I mean.
I really liked the smooth and light writing style, the different characters, especially Macallan's friends and both of the MC's families, the humor, and the sweet moments. I also liked that there was some conflict, which drove the story even though the ending was predictable.

Better off Friends was a story of friendship, learning to take chances, to trust, laughter, and love. If you enjoy contemporary YA, especially if it's clean, then I think you'd like this one.

Content: Clean
Source: From the publisher through NetGalley, which did not affect my review in any way.
Have you read this or plan too?