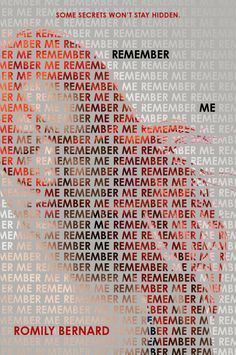 Remember Me
YA Suspense/Thriller
Hardcover

,

355

Pages
September 23rd 2014

by HarperTeen
Summary
In the sequel to Find Me, Wick Tate, sarcastic teen hacker, is back and once again dealing with criminals and corrupt cops…and a brooding new love interest. Will Wick persevere when some secrets refuse to stay hidden?
Wick had thought her troubles were over.
But she should've known better.
Not only is she embroiled in a new murder case, which starts with a body with "Remember Me" carved into it and doesn't stop there, but she also discovers new evidence surrounding her mother's suicide…which leads her right back to her imprisoned deadbeat dad. And she has to deal with her flirty new hacker friend, Milo, sniffing around—which her boyfriend, Griff, isn't too happy about.
The pressure might be too much as secrets—including Wick's own—climb to the surface.
Remember Me is an edge-of-your-seat thrilling read that'll have readers turning the pages at lightning speed! The paperback of Find Me is on sale simultaneously, and a digital original novella from Romily, featuring Griff, is on sale just a few weeks before!
Read an excerpt of Remember Me HERE.
Remember Me was such a crazy roller-coaster ride! It was edge-of-your-seat suspense. There was so much at stake with Wick, her family, and her friends. She was coerced and manipulated by those who should be protecting her and given up on by those who should love her. It was such a tough read for me emotionally because I wanted someone to really be there for Wick regardless of her choices. Two characters that I thought would fill that role for her turned away as the story unfolded and it broke my heart. Wick risks so much and no one understands or sees what she is doing.
The author did such a fabulous job of letting the emotions of the characters leak out in these pages and throughout the story. She let them live and be imperfect and fail. This one was so intense and I was rather worried about the outcome. Wick only has so much left in her. What happens when she loses it or gives it all? It literally brought me to tears. I also loved how she showed the differences between Wick's world, the elite's world, and then the position that Wren's adoptive mother was facing due to what had happened. It really showed how judgmental classes and society can be. Bren and Wick didn't deserve any of it.
Then that ending. Just. Intense. I loved the final scene where there's a line from one of the characters to "trust me." It was a perfect set up for the third book in this series, which comes out next year and which I am dying to get my hands on.

If you enjoy young adult suspense/thrillers with authentic characters you can cheer on and a really intense plot, then I'd definitely recommend Remember Me.

Content: Some language, innuendo, and quite a bit of violence.
Source: From the publisher through Edelweiss, which did not affect my review in any way.
The author, Romily Bernard, is stopping by today for the tour for
Remember Me
to answer some of my questions. Go check out the interview and enter the giveaway
here
!