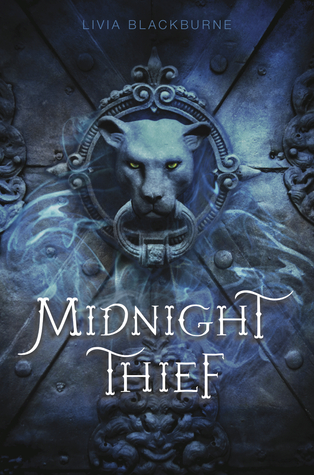 Midnight Thief
(Midnight Thief #1)
by Livia Blackburne
YA Fantasy
Paperback

,

376

Pages
July 8th 2014 by Disney-Hyperion
Summary
Growing up on Forge's streets has taught Kyra how to stretch a coin. And when that's not enough, her uncanny ability to scale walls and bypass guards helps her take what she needs.
But when the leader of the Assassins Guild offers Kyra a lucrative job, she hesitates. She knows how to get by on her own, and she's not sure she wants to play by his rules. But he's persistent—and darkly attractive—and Kyra can't quite resist his pull.
Tristam of Brancel is a young Palace knight on a mission. After his best friend is brutally murdered by Demon Riders, a clan of vicious warriors who ride bloodthirsty wildcats, Tristam vows to take them down. But as his investigation deepens, he finds his efforts thwarted by a talented thief, one who sneaks past Palace defenses with uncanny ease.
When a fateful raid throws Kyra and Tristam together, the two enemies realize that their best chance at survival—and vengeance—might be to join forces. And as their loyalties are tested to the breaking point, they learn a startling secret about Kyra's past that threatens to reshape both their lives.
In her arresting debut novel, Livia Blackburne creates a captivating world where intrigue prowls around every corner—and danger is a way of life.
I really loved reading Midnight Thief. I could feel an underlying plot as the story progressed and I was really curious to see how everything would fit together in the end. I also really liked that the author let her characters go, not always protecting them from unpleasant circumstances, but letting them struggle. It was a bittersweet tale, one that was well written, with likable characters.
Kyra was such an interesting character. She comes from squallier, but learned to hone her skills as a thief in order to survive. Then you have her complete opposite in Tristam, who was born with privilege. He too has honed his skills to become a knight. They meet under fairly tense circumstances and as enemies before they become friends. I don't know what it is about enemies who become love interests, but it always drives a story and keeps tension between the characters going for me. It definitely worked for me in this story. I also liked all the side characters who felt fully fleshed out. They added quite a bit to the story and I think we'll be seeing some of them again as the series continues.
There was a lot going on in this story, although it slowly built up. I wasn't sure if the characters I learned to love would all come out unscathed, and indeed they did not. There were places where I wanted to yell at Kyra to choose something different or figure something out. I didn't like how the cats felt about humans because to me it didn't make sense. I'm curious if we'll find out more about their story and background in the future. I know the danger to Kyra is not over.

Midnight Thief was an overall enjoyable read. I would say that you don't have to love fantasy to enjoy this story as it felt more historical with a paranormal twist than fantastical. I'm really looking forward to finding out what will happen next in this series!

Content: Clean (There is some innuendo and some intense violence.)
Source: From the publisher through NetGalley, which did not affect my review in any way.
Have you read this or plan too?