I have loved all of Tamera Alexander's books, but especially this series! You can see my review of the first book, To Whisper Her Name, here. This is the last day to enter the giveaway, so be sure to do that and, besides my review, be sure to check out Tamera's interview below...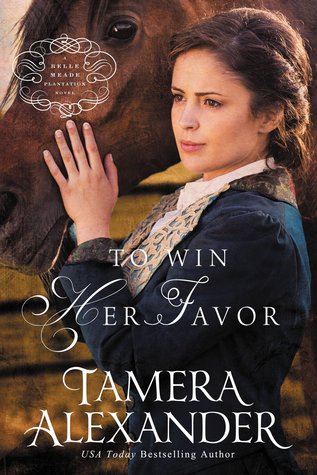 To Win Her Favor
(Belle Meade Plantation #2)
by Tamera Alexander
Summary
A gifted rider in a world where ladies never race, Maggie Linden is determined that her horse will become a champion. But the one man who can help her has vowed to stay away from thoroughbred racing for good.
An Irish-born son far from home, Cullen McGrath left a once prosperous life in England because of a horse racing scandal that nearly ruined him. He's come to Nashville for a fresh start, hoping to buy land and start a farm, all while determined to stay as far away from thoroughbred racing as possible. But starting over proves harder than he'd wagered, especially when Maggie Linden's father makes him an offer he shouldn't accept yet cannot possibly refuse.
Maggie is certain that her mare, Bourbon Belle, can take the top purse in the annual Drayton Stakes at Nashville's racetrack––the richest race run in America. Maggie only needs the chance to prove it. To give her that chance, and to save Linden Downs from being sold to the highest bidder, Maggie's father––aging, yet wily as ever––makes a barter. His agreement includes one tiny, troublesome detail––Maggie must marry a man she's never met. A man she never would have chosen for herself.
Cullen and Maggie need each other in order to achieve their dreams. But their stubborn, wounded hearts––and the escalating violence from a "secret society" responsible for lynchings and midnight raids––may prove too much for even two determined souls.
To Win Her Favor may be my favorite book from Tamera Alexander to date. There were so many emotions that were pulled from me as I read this story. This was such a turbulent time in the South's history. The way people were treated... It just galls me. Then there were all these families who had lost so much and just kept on losing even after the war. Maggie and her father were in the middle of it all. Then to have a woman, Maggie, who grew up knowing one world, one life, to be faced with something quite different and a marriage she could have never foreseen... It was a challenge for her to let go of her presumptions and prejudices. I loved how these characters changed. How they learned from each other and to love each other. How some of the town came together.
The story had so many different themes. There was forgiveness that had to take place between Maggie and Cullen, between Cullen and Ethan, Maggie and Ethan, and others. Then there was trust that had to be earned and the struggle that these characters went through to really let go. Then the prejudices and those that had to take a stand, those that chose to open their hearts and to love. It was a beautiful story.
There was plenty going on in this story. There was a lot of romantic tension. Probably the most that I've read from this author, especially since it was between a married couple. There was quite a bit of danger and I felt an underlining suspense through the entire story. There was some terrible violence and some some things that happened that were very devastating. But the joy. Oh, the joy! The hope. The love that held this story and these characters together was wonderful and it's what balanced out the bad. Those are the things that always do and make life worth living, even when it's hard.
There were several parts that felt like little jewels of wisdom that influenced these characters. Here are some snippets that stood out to me:
"If there's one thing I've learned, ma'am, and it's a lesson that cost me dearly, it's that one always has a choice."




(Location 1167, Kindle ARC)
"The time is coming, Mr. McGrath, and in fact is already upon us, when a man will have to boldly stand for what he believes, or everything he holds dear will be taken from him."




(Location 722, Kindle ARC)
"There are moments in my life I wish I could go back and do again, but I can't. Because once a moment is past, it's past. There's no gettin' it back. And this is one of those moments for you. As hard as it is right now, as much as I wish we could stop it and start it all over again . . . we can't. If you don't do this now, Kizzy, you may not get another chance."




(Location 4812, Kindle ARC)
Sad, how the color of one's skin so defined the path of a person's life. Both in freedom for opportunities, and in boundaries.




She prayed, especially in light of the recent war, that it wouldn't always be that way.




(Location 4494 of Kindle ARC)
"The best way to beat somebody is to show them who you are, and to succeed by doin' what they say you can't."




(Location 4824 of Kindle ARC)
To Win Her Favor was full of heartbreak, prejudices, and challenges. It was also full of hope, love, and the joy that comes when you forgive and fully love. It was a beautiful story. Inspiring and heartfelt. One of the best from Alexander yet.

Content: There is some violence and some marital intimacy that was well done. I would consider this clean for the genre.
Source: I would like to thank the publisher, Zondervan, and Author Tamera Alexander for my complimentary review copy through NetGalley, which did not affect my review in any way.

Q: To Win Her Favor is the second in your Belle Meade Plantation series. Can you tell us where the story picks up in the series? Is it directly connected to the first book?
Each of the Belle Meade Plantation novels are standalone novels, so each tells a complete story. However, you might just catch a glimpse <wink> of Ridley and Olivia from To Whisper Her Name in To Win Her Favor (releasing May 12, 2015). But Cullen and Maggie
'
s story definitely takes center stage in To Win Her Favor, the second of three novels in the Belle Meade Plantation series.
Coming in July is a Belle Meade Plantation novella
—
To Mend a Dream. To Mend a Dream continues the story of a secondary character we meet in To Win Her Favor, Savannah Darby. Savannah is Maggie
'
s closest friend and while we learn about Savannah
'
s struggles in To Win Her Favor, the culmination of her story is told in To Mend a Dream, a novella in a Southern novella collection entitled, Among the Fair Magnolias (written with authors Shelley Shepard Gray, Dorothy Love, and Elizabeth Musser).
You are a resident of Nashville, which is a city rich with culture and history. Is this why you chose to set your series there?
I
'
ve always had a love of history. Southern history, specifically. Being from Atlanta, I grew up around antebellum homes, so when I was in Nashville on a business trip in 2004 with my daughter, we toured the Belmont Mansion, and I knew then I wanted to someday write about Belmont
'
s fascinating history (A Lasting Impression and A Beauty So Rare). Likewise, when I learned about Belle Meade
'
s thoroughbred legacy, the ideas started coming (for To Whisper Her Name and To Win Her Favor). I
'
m honored to write about these two Nashville estates and their real history. It never gets old for me.
How many times did you visit the actual Belle Meade Plantation while writing this book?
Oh gracious, I
'
ve lost count how many times I
'
ve been out there (Belle Meade is only 25 minutes from my house). Just two weeks ago, I met a book club of about 30 women at Belle Meade. They were from Alabama, having a girl
'
s weekend out! After they toured the mansion, we walked down to the old Harding cabin, one of my favorite places at Belle Meade, and where Belle Meade all began. No visit to Belle Meade is complete for me without stopping by that cabin. It has such a presence about it.
I
'
m grateful to Belle Meade
'
s director, Alton Kelley (a descendant of the Harding family who owned Belle Meade in the 1800s) and to Jenny Lamb (Belle Meade Educational Director) for opening up the family files, letters, and artifacts to me. I couldn
'
t write these books with such historical detail about the house, the family members, and the servants without Belle Meade
'
s assistance.
How much of the novel is based on actual events and how much is from your imagination?
The backdrop of the novel
—
Nashville
'
s history, the Belle Meade mansion, outbuildings of the estate, the family members, and most of the servants at Belle Meade
—
are from history. I often take documented historical events
—
such as parties, horse races, or catastrophic occurrences
—
and weave them into the fabric of my stories. Then I intertwine a fictional story that follows the journey of a male and female protagonist within that story world. In To Win Her Favor, that
'
s Cullen McGrath and Maggie Linden.
The basis for Cullen
'
s character is founded in the history of Irishmen who came to Nashville in the 1850-70s, and who faced very real prejudice from Nashville residents. Likewise, Maggie
'
s character was inspired by accounts of women who were formerly landed gentry (from wealthy families who were major land owners) but who lost everything following the war and the changes that conflict brought. The rest of the details are filled in by asking myself the question writers constantly ask themselves, "What if
…
"
How was this book different from other projects you have worked on?
To Win Her Favor
is definitely one of the more passionate stories I
'
ve written, and I don
'
t mean that solely in a romantic sense. From the start, this story was simply more evocative because it delves into the intimacies of a marriage of convenience, and also explores prejudice within a marriage
—
in addition to examining the prejudices between former slave owners and former slaves. Passions run high between the characters in To Win Her Favor. Everyone was learning how to be with each other in that time period, learning where the new boundaries were, where everyone fit.
As I read and researched for To Win Her Favor, I often found my own emotions stirred by real events that occurred in Nashville during Reconstruction. At times, the accounts were repugnant and heartbreaking. Yet at others, they were remarkably soul stirring with fresh whispers of hope.
View vignettes filmed on location at Belle Meade Plantation, the setting of To Whisper Her Name and To Win Her Favor, on the
Belle Meade Plantation novels page
on Tamera
'
s website.

Tamera Alexander is a best-selling novelist whose deeply drawn characters, thought-provoking plots, and poignant prose resonate with readers. Having lived in Colorado for seventeen years, she and her husband now make their home in Nashville Tennessee, along with their two adult children who live near by. And don't forget Jack, their precious–and precocious–silky terrier.
Can Maggie prove that her mare, Bourbon Belle, can take the top purse in the inaugural Peyton Stakes, the richest race ever run in America? Find out in Tamera Alexander's To Win Her Favor.
To give her that chance—and to save Linden Downs from being sold to the highest bidder—Maggie must marry a man she's never met. A man she never would have chosen for herself.
Celebrate the release of To Win Her Favor with a Kindle Fire and book giveaway!
One grand prize winner will receive:
A Kindle Fire HD 6
A copy of To Win Her Favor
Enter today by clicking the icon below. But hurry, the giveaway ends on May 10th.
Winner will be announced May 11th on
Tamera's blog
. Plus stay tuned for more opportunities to win after May 11 with a special Pinterest contest—more details coming soon!