Welcome to my tour stop for A School for Unusual Girls by Kathleen Baldwin! This is one book that I've been highly anticipating. I love historical settings and this one seemed especially intriguing. Check out all the info, including my review and the giveaway, below...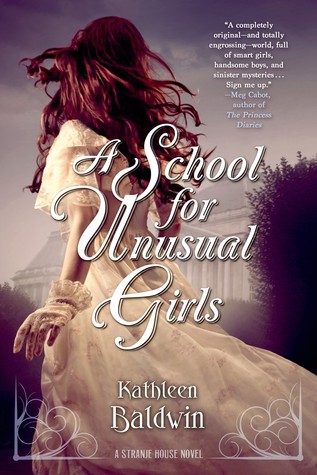 The School for Unusual Girls
(Stranje House #1)
by Kathleen Baldwin
YA Historical Romance
Hardcover & ebook

, 352

Pages
May 19th 2015 by Tor Teen
Summary
It's 1814. Napoleon is exiled on Elba. Europe is in shambles. Britain is at war on four fronts. And Stranje House, a School for Unusual Girls, has become one of Regency England's dark little secrets. The daughters of the beau monde who don't fit high society's constrictive mold are banished to Stranje House to be reformed into marriageable young ladies. Or so their parents think. In truth, Headmistress Emma Stranje, the original unusual girl, has plans for the young ladies—plans that entangle the girls in the dangerous world of spies, diplomacy, and war.
After accidentally setting her father's stables on fire while performing a scientific experiment, Miss Georgiana Fitzwilliam is sent to Stranje House. But Georgie has no intention of being turned into a simpering, pudding-headed, marriageable miss. She plans to escape as soon as possible—until she meets Lord Sebastian Wyatt. Thrust together in a desperate mission to invent a new invisible ink for the English war effort, Georgie and Sebastian must find a way to work together without losing their heads—or their hearts...
Amazon and Book Depository are affiliate links.
I love historical romance in both the adult and young adult genres and was intrigued by the story-line for The School for Unusual Girls. I have to say that it did not disappoint. It was sweetly romantic, set wonderfully, and had a great set of interesting characters and enough danger to make this one book that was impossible to put down.
I was immediately invested in this story as I came along with the main character, Georgiana Fitzwilliam (Pride and Prejudice immediately came to mind), as she is unceremoniously dumped in a girls' school that she sees as more of a prison. Then she is thrown into a new world where she has to come to terms with some pretty disappointing things and find new friends in the other girls staying at the finishing school. She also was challenged by seeking the perfect recipe for invisible ink and by a gentleman who infuriates her to no end.
There was plenty of intrigue and I love how these girls became empowered, more intelligent, and more able as they found strength in their similar circumstances and in each other. With a few twists, danger, romance, witty banter, and friendship,
The School for Unusual Girls
made for a very enjoyable read! I can't say how thrilled I am that this is a series and that there are more books to come. I know I'd like to see a certain lady and lord, as well as a certain headmistress find their happily-ever-afters and there are plenty of other stories to be had among this interesting set of girls.
This is one book I definitely recommend!

Content: There were some crude or blunt comments, but I would still consider this clean.
Source: I would like to thank Tor Teen for my complimentary copy, which did not affect my review in any way.
About Author Kathleen Baldwin
"I love adventure in books and in real life. I've roamed the Rocky Mountains, wandered the desert, enjoyed way too many classes in college, was stalked by a mountain lion, lost an argument with a rattlesnake, fell in love at least a dozen times, finally met and married my very own hero, and together we've raised four free-spirited children."
Award-winning author - Kensington published four of Kathleen's Regency romantic comedies, including MISTAKEN KISS, a Holt Medallion finalist. DIARY OF A TEENAGE FAIRY GODMOTHER, was a Golden Quill finalist. Her upcoming Historical YA series with TorTeen, A SCHOOL FOR UNUSUAL GIRLS, is a Junior Library Guild Selection and won a Marlene.
News and more at: www.Kathleenbaldwin.com
10 winners will receive a finished copy of A SCHOOL FOR UNUSUAL GIRLS.
US Only.
a Rafflecopter giveaway